Advertisement
Controlling blood sugar is always important for people with diabetes to prevent stroke. But a new study shows that for people with diabetes who have had a stroke, there is an ideal blood sugar level to reduce the risk of different types of blood vessel disease like stroke or heart attack later in life. The study was published in the September 29, 2021 online journal Neurology®, the medical journal of the American Academy of Neurology.
"We know that having diabetes can lead to an increased risk of having a first stroke," said study author Moon-Ku Han, MD, PhD, Seoul National University School of Medicine, South Korea. . "But our results show that there is an optimal blood glucose level that can be determined to reduce the risk of having another stroke, heart attack or other vascular problems, and it is right in the 6.8 range. % to 7.0%."
The study involved 18,567 people with diabetes with an average age of 70. All participants were hospitalized for ischemic stroke, which is caused by a blood clot. Upon admission, the researchers gave a hemoglobin A1C test to determine a person's average blood sugar level over the past two to three months. This test measures the percentage of the hemoglobin protein in the blood that is covered by sugar. Levels below 5.7% are considered normal; 6.5% or higher usually defines diabetes. Participants had an average A1C of 7.5%.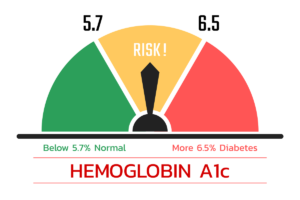 The researchers then followed up for a year to find out if there was a link between A1C levels and the risk of having another stroke, heart attack, or dying from these or vascular causes. other or not.
Of all the participants, 1,437, or about 8%, had a heart attack or died of vascular disease within a year of starting the study, and 954, or 5%, had a stroke. collapsed again.
Research shows that people hospitalized with A1C levels above 6.8% to 7.0% have an increased risk of vascular events such as heart attacks, as well as other strokes.
After adjusting for factors such as age and sex, the researchers found that the risk of heart attack or vascular disease was the same in every patient, 27% higher when they were hospitalized with an A1C level above 7.0%, compared with those hospitalized with A1C levels below 6.5%. . The risk of stroke was 28% higher in patients on admission with an A1C level above 7.0%, compared with those below 6.5%.
"Our findings underscore the importance of closely monitoring your blood sugar if you have diabetes and have had a stroke," says Han.
One limitation of the study was that the patient's blood sugar was only measured at the start of the study; not previously tracked.
Information sources:
Materials provided by American Academy of Neurology. Note: Content may have been modified in presentation and length.
References:
Association of Prestroke Glycemic Control With Vascular Events During 1-Year Follow-up
Jun Young Chang, Wook-Joo Kim, Jee Hyun Kwon, Ji Sung Lee, Beom Joon Kim, Joon-Tae Kim, Jun Lee, Jae Kwan Cha, Dae-Hyun Kim, Yong-Jin Cho, Keun-Sik Hong, Soo Joo Lee, Jong-Moo Park, Byung-Chul Lee, Mi Sun Oh, Sang-Hwa Lee, Chulho Kim, Dong-Eog Kim, Kyung Bok Lee, Tai Hwan Park, Jay Chol Choi, Dong-Ick Shin, Sung-Il Sohn , Jeong-Ho Hong, Hee-Joon Bae, Moon-Ku Han. Neurology, 2021
DOI: https://n.neurology.org/content/early/2021/09/29/WNL.0000000000012729
The article is translated and edited by ykhoa. org – please do not reup without permission!
Source: ScienceDaily
Link: https://www.sciencedaily.com/releases/2021/09/210929160134.htm
Author: Roxie Duong