Advertisement
Gestational diabetes mellitus (GDM) is defined as glucose intolerance at onset or first recognized in pregnancy. A study by Stuebe et al showed that this condition was associated with persistent metabolic dysfunction in women 3 years postpartum, separate from other clinical risk factors.
Infants of mothers with pre-existing diabetes are twice as likely to have severe birth trauma, three times as likely to have a cesarean section, and four times more likely to be admitted to a neonatal intensive care unit (NICU). new-born.
Gestational diabetes accounts for 90% of diabetes cases in pregnancy, while pre-existing type 2 diabetes accounts for 8% of those cases.
Screening for diabetes during pregnancy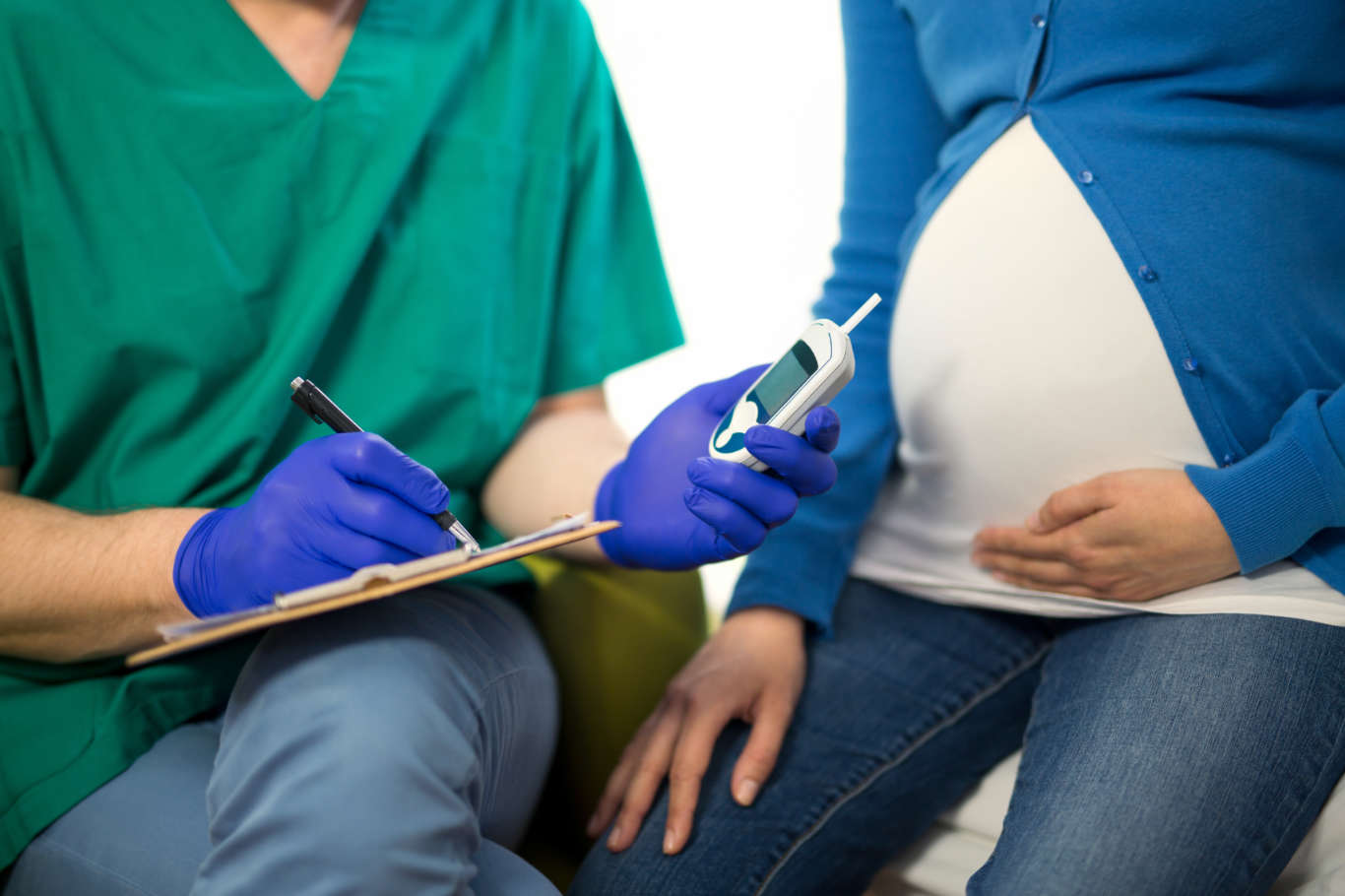 Gestational diabetes
The following 2-step screening system for gestational diabetes is currently recommended in the United States:
50 g, 1-hour glucose test (GCT).
100 g, 3 hour oral tolerance test (OGTT) – For patients with abnormal GCT results.
Alternatively, for women at high risk or in areas with 5% or higher rates of insulin resistance (eg, the southwestern and southeastern United States), approach 1 can be used. step by conducting direct 100 g, OGTT 3 h.
The United States Preventive Medicine Service (USPSTF) recommends screening for gestational diabetes after 24 weeks of pregnancy. The recommendation applies to women who are asymptomatic and have not been previously diagnosed with type 1 or type 2 diabetes. The recommendation does not state whether a 1-step or 2-step screening method would be preferable.
Type 1 diabetes
The disease is usually diagnosed during an episode of hyperglycemia, ketosis, and dehydration
It is most commonly diagnosed in childhood or adolescence; The disease is rarely diagnosed during pregnancy
Patients diagnosed during pregnancy often present with sudden coma – Early pregnancy can cause instability in diet and glycemic control in patients with asymptomatic diabetes .
Type 2 diabetes
According to the American Diabetes Association's "Standards of Medical Care for Diabetes – 2010," the presence of any one of the following criteria supports a diagnosis of diabetes:
HemoglobinA1C (HbA1C) = 6.5%
Fasting plasma glucose => 126 mg/dL (7.0 mmol/L)
2-hour blood glucose level = 200 mg/dL (11.1 mmol/L) in 75 g OGTT
Random blood glucose level = 200 mg/dL (11.1 mmol/L) in a patient with classic symptoms of hyperglycemia or a hyperglycemic episode
In the absence of obvious hyperglycemia, a diagnosis based on any of the first 3 should be confirmed by repeat testing on another day.
Pre-diabetes
Women with pre-diabetes identified before pregnancy should be considered at very high risk of developing gestational diabetes during pregnancy. Therefore, they should be screened for diabetes early (first trimester).
Post-diagnostic check
Once diabetes is diagnosed in a pregnant woman, continued testing for glycemic control and diabetes complications is indicated for the remainder of the pregnancy.
Tests for the first 3 months of pregnancy
HbA1C
Blood urea nitrogen (BUN).
Serum creatinine.
Thyroid stimulating hormone.
Free thyroxine concentration.
Protein-creatinine ratio in urine.
Capillary blood glucose level.
Tests in the second trimester of pregnancy
The urinary protein-creatinine ratio in women has elevated values ​​during the first trimester.
Repeat HbA1C
Capillary blood glucose level
Supersonic
First trimester – Ultrasound evaluation to determine gestational age and survival.
Second trimester – Detailed anatomical ultrasound at 18-20 weeks and fetal echocardiography if maternal blood glucose values ​​are elevated during the first trimester.
Third Trimester – Growth ultrasound to assess fetal size every 4-6 weeks from 26-36 weeks in women with pre-existing diabetes; Perform fetal growth ultrasound at least once at 36-37 weeks for women with gestational diabetes.
ECG
If maternal diabetes is long-standing or associated with known microvascular disease, obtain an initial electrocardiogram (ECG) and echocardiogram of the mother.
Manage
Diet
The goal of diet therapy is to avoid single large meals and foods with a large percentage of simple carbohydrates. The diet should include foods with complex carbohydrates and cellulose, such as whole grain breads and legumes.
Insulin
The goal of insulin therapy during pregnancy is to achieve glucose levels similar to those seen in pregnant women without diabetes. In gestational diabetes, early intervention with insulin or oral medication is key to achieving good results when dietary therapy does not provide adequate glycemic control.
Glyburide and metformin
The effectiveness and safety of insulin have made it the standard for the treatment of gestational diabetes. However, the treatment of diabetes with oral glyburide and metformin has become popular. Trials have shown the two drugs to be effective and there is no evidence of harm to the unborn baby, although the potential for long-term side effects remains a concern.
Prenatal obstetric management
Various fetal physiologic tests can ensure that the fetus is adequately oxygenated, including fetal heart rate testing, fetal movement assessment, ultrasound physiologic scoring, and cord Doppler ultrasonography. umbilical cord of the fetus.
Newborn management
Current recommendations for infants of mothers with diabetes – the most important metabolic problem for that person is hypoglycemia – include regular blood glucose testing and early initiation of breastfeeding (reason) assuming breast milk) when possible, intravenous glucose infusion if oral measures are inadequate.
Source: https://emedicine.medscape.com/article/127547-overview
The article is translated and edited by ykhoa.org – Please do not reup without permission!
Translator: Shu martial