Advertisement
Translator: Dr. Huynh Van Trung- Gastroenterology, Hepatobiliary Medicine- Centers for Disease Control & Prevention- Tam Anh Hospital in Ho Chi Minh City
1. Epidemiology of hepatitis B and C:
• Hepatitis B: according to WHO 2019 it is estimated that # 296 million people are infected with hepatitis B virus, accounting for 3.8% of the world population. Of which, Africa and Asia Pacific accounted for 67% of all hepatitis B virus infections. In 2015 the prevalence of hepatitis B among people living with HIV # 7.6%, equivalent to # 2.7 million people co-infected with hepatitis B and HIV. Most current hepatitis B cases were born before the hepatitis B vaccine became widely available, especially in children.
• Hepatitis C: WHO 2019 estimates #58 million people are infected with hepatitis C virus worldwide, representing #0.75% of the population. In people with HIV, hepatitis C co-infection accounts for #2.3 million.
• WHO 2019 estimates # 1.1 million hepatitis B&C-related deaths mainly due to cirrhosis and HCC.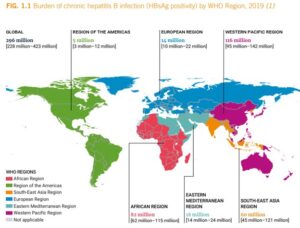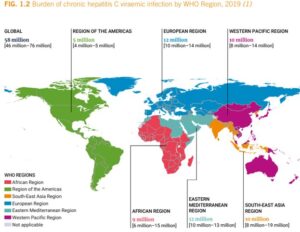 2. Treatment of Hepatitis B
• Treatment of hepatitis B with tenofovir reduces the risk of complications such as cirrhosis, decompensated liver failure and HCC especially in people with advanced liver disease => reduces the risk of death and morbidity
• WHO recommends that all adults, children and adolescents with chronic hepatitis B with clinical evidence of cirrhosis or decompensated cirrhosis should be treated for B virus regardless of ALT level, status. HBeAg or HBV DNA level (detected).
• Treatment would also be recommended in adults with chronic hepatitis B without clinical evidence of cirrhosis but with persistent ALT abnormalities and high viral levels (HBV DNA >20,000 IU/ml), regardless of status. HBeAg, especially in people over 30 years of age.
• In facilities where HBV DNA levels cannot be determined => treatment will also be considered if ALT abnormalities persist (exclude other causes), regardless of HBeAg status.
• Continue to monitor patients with chronic hepatitis B, especially those for which no treatment is indicated.
3. Treatment of chronic hepatitis C:
• Treatment of chronic hepatitis C with oral direct-acting antivirals (DAAs): if patients achieve a sustained virological response after 12 weeks (SVR 12) => called "cure" => 85% reduction in mortality HCC rates, 75% and 70% reductions in liver and all-cause mortality, respectively, in cirrhotic and non-cirrhotic patients
• WHO recommends the treatment of chronic hepatitis C in all patients >=12 years of age regardless of disease stage, using all genotype-acting DAAs (sofosbuvir/daclatasvir, sofosbuvir/velpatasvir, and glecaprevir/pibrentasvir)
• Duration of treatment varies depending on the patient with or without cirrhosis, SVR 12 achieved >=90% of patients treated with DAA
Link to the fb article: https://www.facebook.com/groups/ylamsang/permalink/1196410350804921/
Thank you author Huynh Trung for sharing this content on the Medical Forum!