Down Syndrome Awareness Month
October is Down's Awareness Month. We celebrate the abilities of these children and all the progress that has occurred in Down's lives. There is some really fascinating research going on to improve the cognition of our Down syndrome children.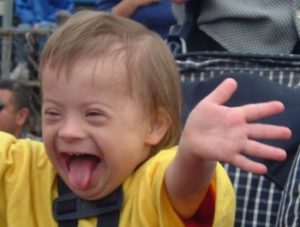 The research team at Jerome Lejeune Institute in Paris HTTPS://clinicaltrials.gov/ct2/show/NCT01576705 show some interesting preliminary results in young Down's children's cognitive performance during and after therapy with a combination of folic acid and thyroid hormone…so much so that the US researchers are planning to do a similar study. The link above notes that as of Jan 2016, they were still recruiting patients.
Other researchers, such as Alberto Costa, MD, PHD in Cleveland is studying memantine hydrochloride that may increase cognitive performance in young adults with Down syndrome. This research study is still recruiting patients as of Sept 2016. https://clinicaltrials.gov/ct2/show/NCT02304302
Spread the word to all Down's families! We need their help.
Have a happy October!
Keep Calm, it's only an extra chromosome!