Have you ever seen an interesting ad on YouTube, you want to experience the feeling of watching an ad again and want your friends to enjoy that attractive promotional video, but you can't see that ad anymore? Don't worry, we have researched and compiled for you the how to review watched ads on YouTube extremely effective below.
WHAT ARE YOU SEEING A YOUTUBE ADVERTISEMENT?
YouTube is the second most used social network in Vietnam, which is a great opportunity for advertisers to convey brands and products to users.
People use YouTube to watch movies, listen to music, cook, entertain, study, and countless other activities that interest them.
YouTube uses Google's data store to recommend ads to customers, on the contrary, Google's data system also stores YouTube users' actions. Through that system, YouTube knows the user's favorite topics and allows advertisers to link to customers according to many different factors (behavior, age, location, interests, …) .
For businesses it's the elements of ad delivery, for YouTube users it's the reasons they see the ad.
Here are the reasons you see ads on YouTube.
Information you provide when you sign up for a Google account:
• Personal information such as age and gender.
• Customer geographical location.
Action you:
• The terms you have searched for so far.

• Activity you do on your devices after signing in to Google or YouTube.

• Your interest and interaction with previous advertisements.

• Category of websites you have visited.

• The type of video you watched.

• Applications and your interaction with them.
Other activities:
• Operating time in days, weeks, months.

• Information you provide to receive promotional emails from businesses.
Google makes no distinction in ad delivery to sensitive categories such as race, health, gender, or religion.
Google does not sell information to anyone, does not allow third parties to read private emails to send ads to you. Advertisers can only see what information you allow Google to share and see if ads are performing.
Above is the basic algorithm Google and YouTube use to classify users by group. Knowing this algorithm will help you understand somewhat why ads are being marketed to you, so you will have a better understanding of the methods to help review the ads viewed on our YouTube channel below.
REFERENCES MARKETING SERVICES
first. Google Ads Price List Vietnam's top
2. Run Google Ads effective
3. Learn about What is GDN?
4. Shopping ads good price
5. Google remarketing ads
6. Youtube advertising price list reputation
7. How to Run Youtube Ads effective
HOW TO VIEW ADVERTISEMENTS WATCH ON YOUTUBE
1. Review the watched video containing that Ads, the video similar to the watched ad
This can be done if the promotional video you are watching takes place not long ago, an advertising campaign usually does not last for too long because advertising costs are always expensive, let's hope that now still within the time period set by the advertiser for the campaign.
Ads will most likely repeat because YouTube serves ads to users based on the nature of the video that is compatible with the information of the customer watching the video (age, gender, location,…).
A typical example is the ad "My home has been treated for 3 generations…", which caused a stir for a while on YouTube Vietnam, the ad repeated so often and so many times that it caused negative reactions for users. However, it does give us hope that this way of reviewing ads watched on YouTube will work.
And perhaps, a promotional video will not repeat on the same YouTube video more than once. Now you need to understand, the YouTube feature allows ads to pages similar to the advertiser's product, so expand the number of videos you watch, which are videos with similar content to old videos or videos that closely resemble the ads you've seen. Since we explained to you YouTube's promotional video delivery algorithm above, follow that and search for similar videos.
Or for many reasons such as: How advertisers install YouTube Ads videos, YouTube algorithms deliver promotional videos, … that YouTube ads will not repeat many times for the same audience. At this point, to increase the likelihood of retrieving watched promotional videos, please:
• Clear the web browser cookies you are using or to be sure change another web browser.

• Use another YouTube account that has the same behavior and tendency to use Google and YouTube as the previous account.

• Re-enable the watched promotional video or videos with similar content to the viewed YouTube Ads.

• Waiting and hoping to see the old interesting ad again.
2. Search for keywords viewed ads on YouTube and Google
YouTube and Google are smart at finding content based on keywords.
Try searching on YouTube and Google for keywords related to the ad you saw.
Suggest you how to look up keywords, try to see if you remember these things in the ad:
• Advertising brand: Advertisements about products/services will always include the brand name. Examples of brand keywords: Super speed advertising, Apple, Nestle,…

• Advertising products: The product ads will definitely focus on the product content. Please use product keywords such as: Surrounding Marketing Matrix, Milk powder, …

• Product images and content: Think back to the logo, product features, and ad outline. Please include it when searching for keywords: Bear-shaped milk powder advertisement, Blue shampoo shampoo ad,…

• Origin of advertising: Based on the advertising language, the national flag, famous places, traditional costumes, national rituals if any, to infer the origin of the advertising product. Searching with product keywords as follows: Korean body lotion, Beer ads with people wearing kimonos, the keywords are Japanese beer ads,…

• Sayings in the ad: There are also times when people advertise songs or movie trailers on YouTube, the keywords at this time are lyrics, character lines, you just need to remember 1 sentence and you can find it.
Even magically, YouTube can find videos even though the keywords are funny.
A note on how to review YouTube ads with keywords:
• Use the following recipe for YouTube: Advertisement + "keyword like the example above". Example: Advertising matrix marketing encirclement, Advertising green beer.

• Keyword search formula on Google: Promotional video (YouTube) + "keyword". Example: A bear-shaped milk powder promotion video.

• When searching for songs, trailers just need to look up keywords, don't add the word "promotional video".

• Do not use too long keywords, do not use redundant linking words in keywords.
3. Install Ads Personalization to see the desired Ads
By customizing the Ads Personalization section, you can control what ads are viewed and narrow the range of ads that can be seen on YouTube. Most accounts have this feature enabled automatically.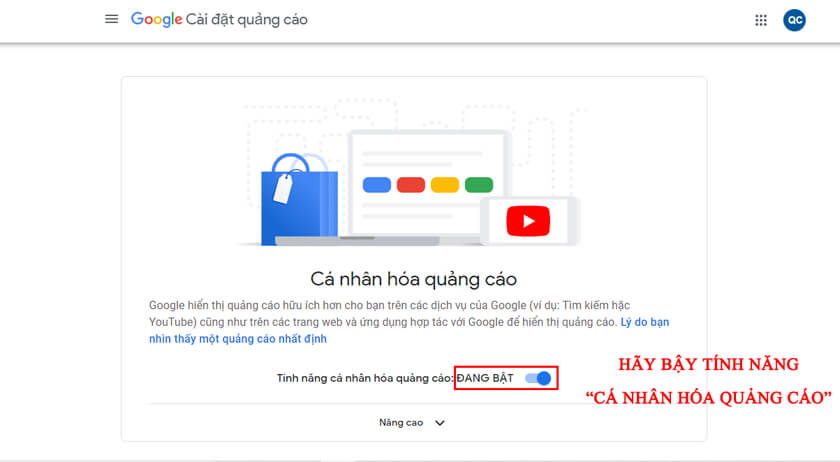 Ads are personalized and represented by content tags, which are formed based on the personal information you enter into your Google Account, based on a database of advertisers partnering with Google and algorithms. Google's estimator of preferences.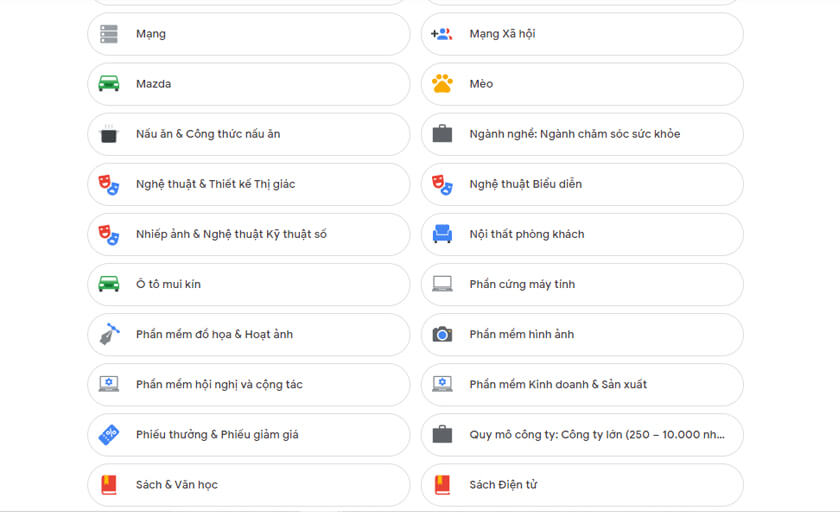 Please "Turn off" the tags that are not important and leave the tags related to the ads you want to find. As a result, when reviewing a video that used to contain ads or a video similar to the one that Ads has seen, there is a high chance that you will find the ad you want again.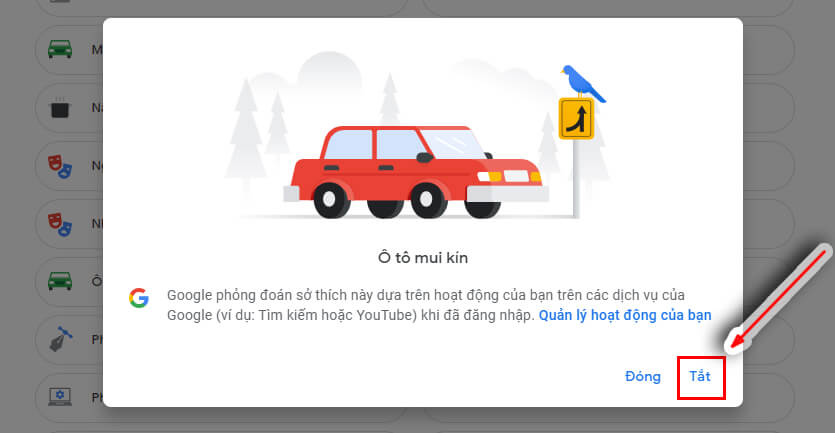 4. Search in YouTube watch history
For some promotional videos, under a separate advertiser agreement with YouTube, YouTube may count ad views as views for the original video.
These paid ad views are counted as native views because they show that the viewer has engaged with the video: Someone watched at least 30 seconds of the ad, someone interacted with the ad, etc. .
Because it counts as an original video view, YouTube will keep the ad in your video watch history.
Go to YouTube Watch History or My Activity and find out if ads are being recorded:
• YouTube watch history: YouTube activity log records the videos you've watched. Or check out the YouTube activity dashboard here to filter your search by date.

• Activity I: Google stores details of what you searched for, read, watched on Google and YouTube, a larger but more detailed data store than YouTube History. You can filter with multiple date and product options.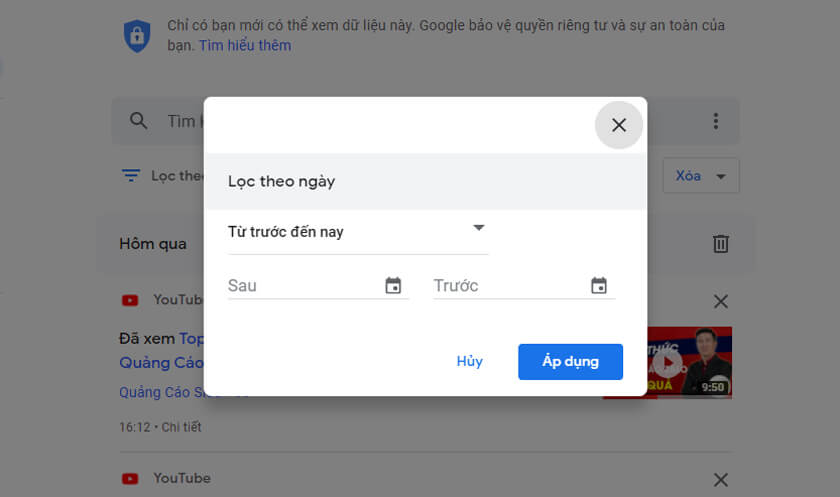 5. Search Trending Ads and Promoted YouTube Channels
This method is quite time consuming but still worth a try!
We introduce to you 2 reliable sites that aggregate a variety of YouTube Ads: YouTube Ads leaderboard & YouTube Advertising Channel:
• YouTube Ads leaderboard (YouTube Ads Leaderboard): This ranking lists the top ads most viewed by people each month.

• YouTube Channel Adversiting: Synthesize ads, chat with advertisers, share advertising secrets,…
These 2 pages contain countless video playlists with huge amount of promotional videos. Ad content varies from ad type to ad country, helping you to increase your chances of finding your favorite promotional video.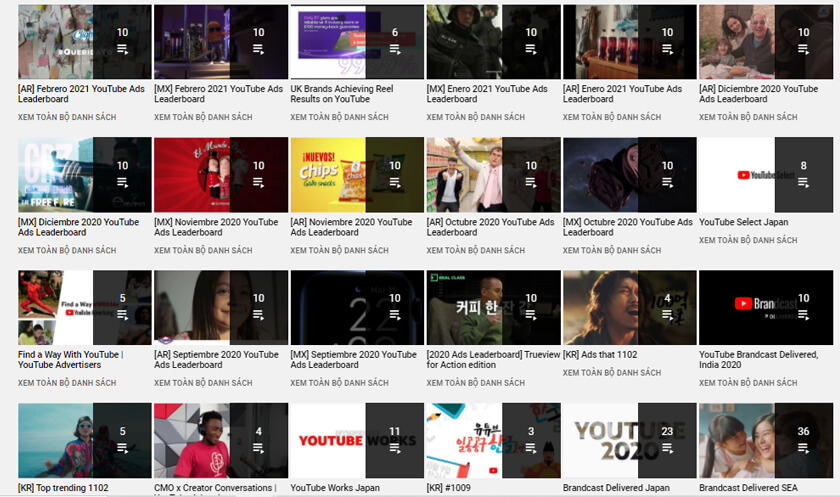 Youtube Advertising channel aggregates a variety of ads for you to find.
The Google algorithm decides when to show a particular ad, so the closer you find the ad to the time the ad campaign occurred, the higher the chances of finding it again. The article shares how to review ads watched on YouTube, hopefully it can help you find interesting promotional videos!
RELATED ARTICLES
first. How to delete dead youtube channel fast
2. How to delete videos on youtube detail
3. How to make music videos on youtube simple
4. How to watch private videos on youtube detail
5. How to turn on Vietnamese subtitles on youtube effective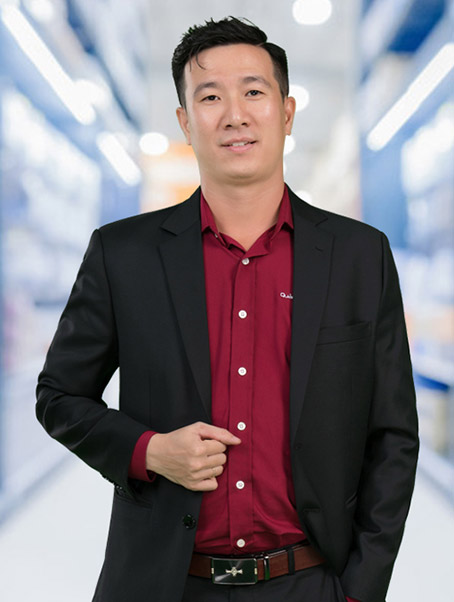 CEO & Founder VO TUAN HAI
Than 13 years Dedicated to Digital Marketing career
VICE PRIME MINISTER

Come Home Visit

Marketing Model August 21, 2014
Professional Coach – International training organization ICF
Foundation DMV Group – Prestigious Digital Marketing Agency
Foundation Academy Speed ​​Ads – Online Marketing Training Academy
Solution Founders"The Surrounding Marketing Matrix" – Total Marketing Solution
Multiple Appearances On VTV3, THVL1, THVL2, Vietnam economic news,..
SEE MORE ABOUT VO TUAN HAI